Only 15 New 2018 Model Vehicles Earn Highest Safety Rating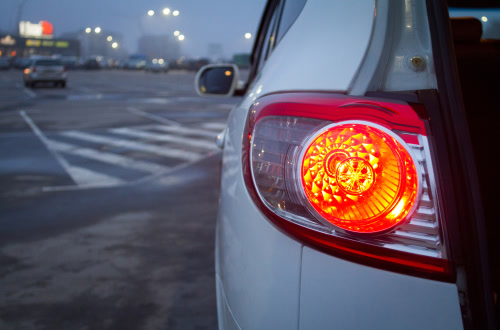 When looking to buy a new vehicle, model, color and size are all important considerations but safety should be at the top of your list!
The Insurance Institute for Highway Safety (IIHS) can help you narrow your selections to the safest new vehicles on the road with its annual list of Top Safety Picks. The IIHS is an advocacy group that began conducting crash tests on all new model vehicles in 2006. The purpose of the safety testing is two-fold: to show automakers where they can improve vehicle design to enhance vehicle safety and to help consumers narrow their vehicle picks to only the safest vehicles on the road.
IIHS conducts a number of safety tests to evaluate the crashworthiness of a vehicle including:
Driver's side small and moderate overlap frontal crash tests
Side crash tests
Roof strength tests
Head restraint tests
Advanced safety feature performance tests
Beginning with 2018 model vehicles, the IIHS now also evaluates headlights and how well a vehicle does in passenger-side small overlap front crashes. New vehicles must receive a 'good' rating on headlights, and a 'good' or 'acceptable' rating on the passenger side overlap front crash test, to be eligible to receive the coveted distinction of Top Safety Pick+.
Headlights are an important safety feature
New vehicles headlights are evaluated on two safety standards tests: how far the low and high beams brighten the road ahead, and how much of a glare the headlights generate for drivers' of other vehicles on the road. IIHS President Adrian Lund praises automakers for finally treating headlights as 'the critical safety equipment that they are' rather than mere design elements on a vehicle.
Passengers should be safe, too!
The second new test measures the crashworthiness of vehicles in a passenger-side overlap front crash. The passenger-side overlap front crash test simulates striking a tree or utility pole to see how well the vehicle absorbs the impact of a crash on just one corner. Previous safety standards only required crashworthiness and safety testing on the driver's side but not the passenger side of the vehicle. This was news to consumers who 'expect that their passengers, who are often family, will be protected just as well' as drivers.
15 vehicles receiving Top Safety Pick+ Rating
'These new and tougher safety standards for 2018 model vehicles reduced the number of vehicles receiving the highest safety rating to 15, down from 38 vehicles in 2017.
'The vehicles receiving the coveted TOP SAFETY PICK+ rating for 2018 are:
Small cars:'Kia Forte, Kia Soul, Subaru Impreza and Subaru WRX
Midsize cars:'Subaru Legacy, Subaru Outback and Toyota Camry
Large luxury cars:'BMW 5 Series, Genesis G80, Genesis G90, Lincoln Continental and Mercedes-Benz E-Class
Midsize SUVs:'Hyundai Santa Fe and Hyundai Santa Fe Sport
Midsize luxury SUVs:'Mercedes-Benz GLC
Forty-seven other new 2018 model vehicles earned Top Safety Pick honors. Most of the vehicles failing to secure the highest safety rating did not meet the more rigorous passenger-side overlap front crash test requirements.
Toyota, Hyundai, and Subaru had the highest number of 2018 vehicles on the Top Safety Pick+ and Top Safety Pick lists. Unfortunately, no minivans, pickup trucks, or mini-cars received this rating.
Critics argue the safety ratings are flawed because base model vehicles, without the extra safety bells and whistles, are unable to receive the highest safety rating. Safety upgrades such as automatic braking systems and accident avoidance systems are not standard equipment on new vehicles yet, although these safety features will be standard safety equipment on new vehicles by the mid-2020s.
Safety features are an important part of any vehicle, and we encourage you to check the safety ratings when choosing a new or used vehicle to help protect your loved ones while on the road the best you can.