Drunk driving is a serious problem in Kentucky. Incidents of DUI account for the cause of thousands of accidents involving serious injuries and life-threatening injuries each year. Specifically, the U.S. Centers for Disease Control and Prevention (CDC) studied this issue carefully during the past several decades. They currently report that 29 people die in car accidents involving drunk drivers every day. The personal injury attorneys at Becker Law Office understand the harm that drunk driving accidents cause Kentucky families and are ready to help.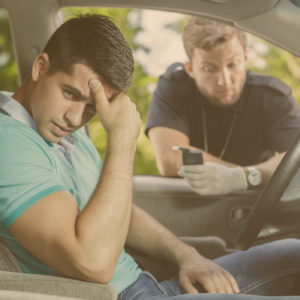 Our dedicated attorneys stand up for people who have been harmed by drunk drivers. We pursue maximum financial recoveries from drunk drivers and their insurance companies to help our clients pay their medical bills and rebuild their lives after a car crash caused by an impaired driver. Becker Law Office is committed to making our communities safer by holding drunk drivers accountable. Becker Law Office is a corporate sponsor of Safe Ride KY Coalition, which focuses on the prevention of drunk driving accidents. Safe Ride KY offers discounts on rides with Lyft transportation service to keep drunk drivers off the road.
If you have been injured or lost a loved one due to an intoxicated motorist's disregard for safety, you need the guidance of a trusted Kentucky drunk driving accident lawyer. Let the experienced attorneys at Becker Law Office review the details of your accident and explain your legal options. Becker Law Office has offices in Louisville, Lexington, and Florence, KY. Our experienced legal team represents accident victims throughout the Commonwealth of Kentucky. We are available to discuss your situation and legal rights during a free and confidential consultation.
Drunk Driving Accident Statistics
More than 5,000 drunk driving accidents were reported in Kentucky in 2017, the most recent year of complete data compiled by the Kentucky Transportation Cabinet. Approximately 35 percent of the DUI accidents involved injuries and 3 percent caused fatalities. All of the alcohol-related injuries and deaths were caused by a drunk driver's bad judgment and were preventable. A total of 33 accidents involved drunk drivers colliding with pedestrians, including four fatal pedestrian accidents.
Alcohol-related accidents go up around the holidays when more people are spending time with family and friends and attending parties and functions where alcohol is served.
How Many People Died in Accidents Caused by Intoxicated Drivers?
| | | | |
| --- | --- | --- | --- |
| Year | Alcohol-Related Crashes | Total Killed | Total Injured |
| 2017 | 5350 | 157 | 2781 |
| 2016 | 4243 | 171 | 1974 |
| 2015 | 4269 | 175 | 2072 |
| 2014 | 4334 | 156 | 2067 |
| 2013 | 4529 | 163 | 2339 |
| 2012 | 4671 | 148 | 2376 |
| 2011 | 4551 | 158 | 2278 |
A drunk driving accident can occur anywhere. The following list compiled by the Kentucky Transportation Cabinet based on 2015-2017 crash data shows the 25 Kentucky counties with the highest rate of drunk driving collisions.
| | |
| --- | --- |
| KY County | Impaired Driver Ranking |
| Jefferson | 1 |
| Fayette | 2 |
| Kenton | 3 |
| Boone | 4 |
| Warren | 5 |
| Campbell | 6 |
| Daviess | 7 |
| Madison | 8 |
| Hardin | 9 |
| Pike | 10 |
| McCracken | 11 |
| Christian | 12 |
| Floyd | 13 |
| Bullitt | 14 |
| Franklin | 15 |
| Laurel | 16 |
| Jessamine | 17 |
| Scott | 18 |
| Shelby | 19 |
| Nelson | 20 |
| Pulaski | 21 |
| Henderson | 22 |
| Barren | 23 |
| Calloway | 24 |
| Whitley | 25 |
Source: Kentucky Transportation Cabinet
What is Considered Drunk Driving?
The Commonwealth of Kentucky defines drunk driving as driving with a blood alcohol concentration (BAC) at or above .08 percent. A driver with this amount of alcohol in his or her bloodstream is presumed to be under the influence of alcohol and lacking to some degree in clear judgment, vision, and self-control.
Drivers operating a vehicle with a commercial driver's license such as truckers and bus drivers are held to stricter BAC limits. A CDL driver will be charged with driving under the influence with a blood-alcohol level at or above .04%.
Drivers under the age of 21 may be charged if they have a BAC level of .02 % or higher.
Common Types of Injuries
Drunk drivers have impaired judgment and reactions and pose a danger to everyone sharing the road. A drunk driver may cross a centerline and hit another vehicle head-on or run through a red light and hit another vehicle at high speed. Any drunk driving collision involves violent forces. The injuries are often extremely serious and, in some cases, fatal.
Victims of drunk driving accidents may sustain:
Head injuries
Neck injuries
Traumatic brain injuries
Broken bones
Crushed vertebrae
Crushed sternum
Injuries to internal organs
Psychological injuries
Injuries causing disfigurement
If you or a loved one has sustained serious injuries in a car accident caused by another driver, you may be overwhelmed by medical bills, unable to work and facing an extended recovery. It is important to understand that you are not alone. An experienced DUI accident attorney at Becker Law Office can deal with the insurance companies and pursue full compensation based on the extent of your injuries. When you need an experienced Kentucky injury lawyer you can trust, contact Becker Law Office.
Can You Sue an Inebriated Motorist?
After a drunk driving accident in Louisville, Lexington or elsewhere in Kentucky, police may file charges against the drunk driver and pursue a criminal prosecution. Driving while intoxicated is a crime. In Jefferson County alone, prosecutors handle more than 3,500 DUI cases every year.
While drunk drivers should be held accountable for their reckless behavior, a criminal conviction of a driver on DUI-related charges is unlikely to provide financial compensation to those harmed by the drunk driver.
To pursue a financial recovery for losses, an individual injured by a drunk driver or the family of a person killed by a drunk driver will need to file a separate civil lawsuit against the drunk driver. That is an important point to understand.
In Kentucky, you can file a personal injury lawsuit against an intoxicated driver who caused a crash if you were injured and your injuries meet certain thresholds. You can sue the at-fault driver if you have medical expenses of at least $1,000, any broken bones, any permanent disfigurement, permanent injuries or loss of life. If your medical expenses are less than $1,000, you would make a claim under your own personal injury protection insurance policy for compensation.
Kentucky lawmakers have held that the consumption of alcohol rather than the serving of alcohol is the proximate cause of alcohol-related accidents and injuries. Still, in some situations, an accident victim may have a right to sue a bar, tavern, restaurant or another licensed alcohol vendor that served alcohol to an obviously intoxicated person who then got behind the wheel and caused a drunk driving accident.
A skilled attorney at Becker Law Office can review the specific details of your drunk driving accident case and discuss whether you have a right to sue the driver who caused your accident. Call for a free and confidential case review.
What Damages are Involved for Victims of DUI Crashes?
If you have been harmed in a drunk driving accident, the drunk driver and his or her insurance carrier may be legally responsible for compensating you for the following types of expenses and losses:
Past and future doctor and hospitals bills
Wages lost due to missed work
Reduction in income or permanent loss of income due to injuries
Pain and suffering
Emotional distress
Wrongful death damages
Medical costs prior to death
Loss of companionship of a loved one who died
Our DUI claims attorneys at Becker Law Office work aggressively to help clients seek compensation for medical bills, loss of income and other related losses. In many cases, our skilled negotiators are able to reach a settlement with the insurance company to provide monetary compensation for our clients' losses. If an insurance company refuses to settle, we then file a lawsuit and pursue justice for our clients in court.
What Should You Do If You Get Hit by a Drunk Motorist?
If you are hit by a drunk driver or in any kind of car accident you should pull over and get to a safe location if you are physically able to do so. You should assess your own condition and that of your passenger(s) to determine if anyone needs emergency medical treatment.
You should call the police and report the accident and the location where it occurred. Request an ambulance if needed. Ask someone else to summon the police if you are unable to do so.
While waiting for the police to arrive, if you are able, you should use your cell phone camera to snap photos of the accident scene including your injuries, injuries to your passengers, and damage to the vehicles. Look for any witnesses to the accident and get their contact information.
If you do not need emergency medical care, you should still seek prompt medical evaluation within a day or two of the accident. You may have injuries that are not apparent to you.
You should contact an experienced Louisville drunk driving accident lawyer as soon as possible to understand your rights to hold the intoxicated driver accountable.
Our Kentucky Drunk Driving Accident Attorneys Are Ready to Help
If you or a loved one has suffered significant injuries, you should understand your legal options by having an experienced attorney review the accident. Becker Law Office has been representing people in Kentucky injured by drunk drivers for more than 30 years. We represented more than 33,000 people. It is important to speak with a Kentucky drunk driving accident lawyer as soon as possible after an accident so the attorney can preserve evidence and locate witnesses.
Becker Law has offices in Louisville, Lexington, and Florence, Kentucky. We offer a free case consultation and do not get paid unless we settle or win your drunk driving accident case. Give us a call or use our online contact form to get a free case evaluation.