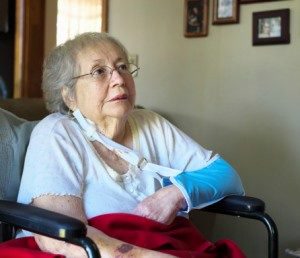 Nursing home residents are dependent on the facility's staff for care and services and are vulnerable to abuse and exploitation because of their frailty. A nursing home resident who is suffering abuse or neglect may be fearful or incapable of speaking up about what is happening or be unsure what to do. That is why it is important for you as an adult responsible for your loved one's welfare to act as their eyes and ears and know how to recognize the signs of nursing home abuse and neglect, and move them to a better and different nursing home.
If you suspect a loved one of yours has been abused in a nursing home in Kentucky, Indiana, Ohio or Tennessee, the Becker Law Office is ready to assist you. Contact us for help in reporting the case to authorities and to seek compensation on behalf of your loved one if appropriate. The Becker Law Office's nursing home abuse attorneys are committed to helping nursing home residents and their families. We can help you put an end to the abuse and seek just compensation on your behalf.

Types of Abuse and How to Recognize the Signs of Each
Elder abuse is the intentional infliction of physical, mental, or financial harm. Neglect, another form of abuse, involves withholding of food, shelter, health care, or protection that a vulnerable elderly person depends on a caregiver to provide.
Is a resident saying he or she is being abused or neglected? Do not simply disregard such a complaint. Question the nursing home resident and the nursing home management to determine if there is any basis for the complaint.
Physical Abuse
Physical abuse of nursing home residents may involve hitting, slapping, shoving, and rough handling while moving, bathing, feeding or administering medication. In some instances, the abuse may come in the form of use of improper restraints.
Signs that your loved one is being physically abused include:
Unexplained cuts, welts, bruises or burns, particularly on the arms, legs or buttocks.
Fractures
Indications of restraint, such as rope marks or burns, or the presence of restraints such as belts or straps in the resident's room
Flinching or nervousness around certain staff members
Broken personal items including eyeglasses and hearing aids
Example: An 85-year-old patient diagnosed with Alzheimer's disease is uncooperative and resists care. A nurse's aide who is not properly trained to handle Alzheimer's patients gets frustrated with the patient's refusal to cooperate and slaps the patient, breaking the patient's glasses and causing a bruise on the patient's face.
Mental Abuse
Mental abuse can involve intimidation, threats, ridicule or manipulation. It often involves verbal abuse of a resident.
Signs that your loved one is mentally abuse would may include:

Complaints about insults, threats, or humiliation
Depression
Anxiety
Insomnia
Social withdrawal from others
Panic or unease around certain staff members
Sexual Abuse
Sexual abuse can involve inappropriate touching or forcing nursing home residents to engage in sexual acts without consent or by use of force. It can also include exposing residents to sexual acts.
Signs of this type of abuse include:
Unexplained cuts or bruises on the legs, arms or buttocks
Diagnosis of a sexually transmitted disease or genital infection
Depression, anxiety or withdrawal
Financial Exploitation
Nursing home residents may be vulnerable to financial abuse. This type of abuse can involve nursing home staff members stealing a resident's personal possessions or money. It also may involve withdrawing funds from a resident's accounts without consent or having the resident make large withdrawals.
Signs that your loved one is being financially abused include:

Suspicious bank withdrawals or credit card charges
Access to bank accounts by new people
Unexplained bounced checks
Unusual or unexplained changes in wills or financial documents
Missing valuable such as rings, jewelry, or electronic ites
Charges for services the resident does not need or receive
Staff member refuses to allow family member private time with elderly loved one
Forged signature on financial transactions or titles to real estate
Neglect
Neglect generally involves a lack of oversight or failure of a nursing home and its staff to provide the recognized standard of care that a nursing home resident is owed. A nursing home may be exposing patients to harm by cutting costs and failing to use care when hiring, training and supervising its employees.
The signs of nursing home neglect may include:
Decline in personal hygiene
Dirty or soiled bed sheets
Unexplained weight loss
When questioning nursing home management and staff about these conditions, be sure to listen carefully to the answers you receive. If anything seems out of the ordinary, it can be helpful to document what you have observed.
What is Considered Nursing Home Neglect?
Neglect can range from failing to provide the proper nourishment and hygiene to failure to care properly for wounds or bedsores. Bedsores, dehydration, and medication mismanagement are the most frequently cited reasons for neglect-related injuries to nursing home residents. Nursing home staff may cause a bedsore by allowing a nursing home patient to stay in the same position for too many hours without being repositioned. Bedsores may cause a serious infection, so proper wound care is essential.
Nursing homes residents often take multiple medications, increasing the risk of medication errors. A nursing home must have a system in place to organize and document how medication is administered and the proper dosage. If a patient suffers harm due to a medication error or adverse interaction of medications, a nursing home may be liable for medication mismanagement.
What Should I Do If I Suspect Nursing Home Abuse?
If you suspect a nursing home resident is receiving inadequate care or being abused, you should make written notes of what you have observed and take your concerns first to the nursing home administrator or nursing supervisor. Listen carefully to his or her explanation. The nursing supervisor or home administrator should be willing to address your specific concerns and offer a satisfactory explanation.
If the nursing home management is unable to explain the situation or unwilling to respond to your concerns, you should take further action. You can contact a knowledgeable attorney at Becker Law Office who handles nursing home neglect and abuse cases and discuss the situation. Our attorney can contact the authorities and take steps to protect your loved one. There is no cost to have a nursing home abuse attorney at Becker Law Office review the potential neglect or abuse and discuss your legal options. If we believe neglect or abuse is occurring, we will move quickly to protect your loved one and their rights.
How Do I Remove My Loved One from a Nursing Home Where I Suspect Abuse?
In the event of suspected nursing home abuse, the guardian of a nursing home resident may remove the patient from the long-term care facility. This should be done in coordination with contacting local authorities to report the suspected abuse or neglect. The quickest way to make a change is to contact an experienced attorney who can act as an advocate, conduct an investigation and take the steps needed to remove your loved one from an unsafe situation if necessary.
Contact Our Nursing Home Abuse Attorneys
The Becker Law Office can help you to report suspected abuse or neglect to the proper officials and seek all compensation that you and your loved one may be due, including funds to cover medical costs and pain and suffering. Our initial consultations are always free. In addition to Kentucky, our firm represents nursing home abuse victims and their families in Indiana, Ohio and Tennessee.
Contact us right away.