Many families reach the crossroads of needing to put a parent or elderly loved one in a nursing home. When you approach the task of choosing a nursing home, it is important to be prepared.
Selecting the right nursing home can be an overwhelming ordeal without reliable guidance.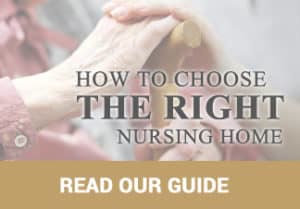 At Becker Law Office, we are sensitive to the many issues that families confront when relocating a loved one from his or her home to a long-term care facility. We have created a downloadable guide, "How to Choose the Right Nursing Home," to help families during this transition. Our compassionate attorneys have helped many families deal with legal issues related to nursing home care. Through the guide, we offer the benefit of our experience to help you make well-informed choices regarding choosing long-term care. The guide offers general information to help you evaluate the nursing homes you are considering. It is available to download free of charge from our website.
We will highlight below a few of the important considerations when selecting a nursing home and warning signs to note. Download our free guide for more information about the steps you should take and important questions to consider. The guide includes a checklist that you can take to each facility you visit.
Steps to Selecting the Right Kentucky Nursing Home
Nursing home facilities vary in the quality of care and the range of services they offer. The three basic levels of care include independent living, assisted living and skilled nursing care. Some facilities have specialized memory care units for residents with Alzheimer's disease.
Level of Care — Consider first what level of care your loved one needs. You should talk with your loved one's doctor to determine the level of care and assistance your loved one should receive at a long-term care facility. There are three basic types of care that facilities may offer:

Independent Living provides a more independent, home-like setting with residents setting their own schedules. Some apartments or rooms may have kitchens so that residents can prepare their own meals.
Assisted Living, which provides a mixed level of care depending on the level of assistance needed. For example, a resident may need help tracking and taking daily medications.
Hospital-type care, which provides more expensive nursing care and rehabilitation services and nursing stations on each floor.

Do Your Research — It's essential to determine whether a nursing home facility is Medicaid and Medicare-certified. The federal government requires that nursing homes that receive government funding receive regular inspections and meet certain criteria for patient care. Ask to see the certification of any nursing home that you are considering. The nursing home administrator should welcome your inquiry.
You can compare the ratings of nursing homes in the area where you live by visiting our Government Nursing Home Report.
Inspection reports show whether a nursing home has complied with minimum standards. To review survey inspection findings at nursing homes in Kentucky, go to the Kentucky Cabinet for Health and Family Services website.
Take a Tour — Visit several nursing homes in person. This will allow you to compare the different types and styles of care available. When touring a facility, ask questions about the choices your loved one has in terms of use of personal furnishings and the types of organized social activities for residents. Discuss the costs for various levels of care and get an understanding of whether any services are charged separately. Make sure you are aware of any extra costs up front and any lump sum deposits required.
Meet the Staff — Make a point of meeting the staff members who will be taking care of your loved one, as well as the nursing home administrators and support staff.
Trust Your Senses — Make an unscheduled visit on the weekend to see if the staffing levels seem adequate. Schedule your visit during one of the day's meals. Take note of how the food looks, smells and tastes. Does the staff seem supportive, or overworked and irritated?
Consider Future Needs — If your loved one's health declines, would the nursing home have the services to provide the higher level of care needed? Would your loved one have to move to a different facility?
Warning Signs of Nursing Home Abuse
It is important for family members of nursing home residents to remain alert for signs that a loved one is not receiving proper care. Some signs may be red flags of neglect or abuse.
Bed Sores — An indicator that a nursing home resident may not be receiving adequate care and may be suffering from neglect is the presence of bedsores, also known as pressure ulcers. If a nursing home resident with limited mobility sits in the same position for hours without being repositioned on a regular basis, the patient may develop bedsores. They tend to occur around bony areas such as the elbows, heels, tailbone, and hips. When bedsores remain untended, infections can develop.
Neglect — A lack of personal hygiene, unsanitary living conditions or untreated medical issues may be a sign of nursing home neglect.
Unexplained Bruises — Any type of bruise, black eye, burn or cut should prompt an inquiry as to how it occurred. Frequent bruises or injuries may be a sign of physical abuse. Bruised breasts, hips or buttocks may be an indication of sexual abuse.
At Becker Law Office, we understand that the placement of a loved one in a nursing home brings up many issues and concerns. With preparation and careful research, you can make a well-informed decision about the selection of a nursing home. Download our free nursing home guide to have reliable information to help you make the best choices for your loved one. If you have concerns about nursing home neglect or abuse, a nursing home abuse attorney at Becker Law Office can review your loved one's situation and work with you to ensure that your loved one is receiving the dignified care that he or she deserves.