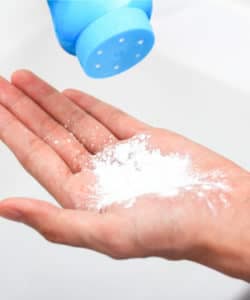 Talcum Powder use Greatly Increases the Risk of Ovarian Cancer
Women who regularly use talcum powder products especially for issues related to chafing, dryness, and odor – are at an increased risk of being diagnosed with ovarian cancer. Medical research has concluded that talcum powder in contact with a woman's reproductive system has been shown to increase the risk of ovarian cancer. The longer women use talcum powder, the greater their risk of the disease.
It's believed that Johnson & Johnson, maker of talcum products, has been aware of these dangerous side effects for some time, but had not disclosed the risk to consumers. In fact, it had been known for years that talcum powder was dangerous for babies and children to breathe, and it's now being found that it may lead to ovarian cancer.
Talc particles may enter the female reproductive system through direct dusting or through the use of feminine products coated in baby powder. According to studies, cancer researchers believe that once inside the body, talc can migrate to the ovaries where the particles are thought to cause inflammation. The inflammation yields conditions that are conducive to the growth of cancer cells, accounting for the increased risk of cancer.
It has been alleged that Johnson & Johnson, the maker of popular talc-based powders, including Baby Powder and Shower-to-Shower, knew about the ovarian cancer risk since at least 1982, but failed to warn women using these products.
Find Out if You Should File a Talcom Powder Lawsuit
If you or someone you know has developed ovarian cancer after using talcum or baby powder, you may have a valid claim for damages. But don't delay because statutes of limitations may apply. Fill out our form to begin the process with a free case evaluation.