If you or a loved one has been seriously injured in a car accident in Kentucky, Indiana, Tennessee or Ohio, you may have questions about how to pay the medical bills or how to relieve the financial stress your family is experiencing if you cannot work. You should not have to worry about paying the medical bills if the accident was caused by someone else. You may be entitled to seek compensation if another driver caused you injury.
The skilled car accident attorneys at Becker Law Office have more than 30 years of experience helping families put their lives back together after serious auto accidents. The law makes the negligent driver who caused the crash responsible for your losses. The car accident attorneys at Becker Law Office can help you hold the at-fault driver or business accountable for your injuries and losses. With each car accident injury case that our legal team handles, our goal is the same to pursue maximum compensation for the client.
Our knowledgeable attorneys will:
Investigate the accident and identify all potentially liable parties
Find all the insurance policies available to provide compensation
Pursue full compensation for you to help you recover physically and financially.
Contact us today to schedule a free consultation with Becker Law Office about filing a car accident claim. We understand that a serious injury sustained in a crash can cause financial stress and disruption. Let us review your accident and discuss your legal options.
Common Types of Car Accidents

There were an estimated 7,277,000 police-reported traffic crashes in the United States in the most recent year on record, according to the National Highway Traffic Safety Administration (NHTSA). More than 37,461 people were killed and an estimated 3,144,000 people were injured. Motor vehicle crashes were the leading cause of death for children age 10 and young people 16 to 23 years old.
There are multiple causes of car accidents. More than a third (36 percent) of vehicles involved in crashes were turning or crossing at intersections just prior to a collision, the NHTSA reports. Also:
About 22 percent of vehicles ran off the road
About 11 percent of vehicles failed to stay in the proper lane
About 12 percent of the vehicles were stopped when they were hit by another vehicle
About 9 percent of vehicles had a driver who lost control prior to the crash.
These situations lead to car accidents described as:
Intersection accidents
Head-on accidents
Rear-end crashes
Sideswipe accident
Side-impact collisions
The rules of the road, including speed limits and right-of-way laws, are designed to protect motorists, pedestrians, and bicycle riders. If everyone drove carefully and obeyed the law, there would be fewer car accidents. Even in this imperfect world of driver negligence and recklessness, if insurance companies paid accident claims fairly, there would be no need for Becker Law Office to stand up for accident victims right.
Unfortunately, drivers make careless choices and dangerous driving mistakes every day. These mistakes can lead to deadly car wrecks or to accidents that cause serious injuries. If you are to be properly compensated by insurers, you will need an experienced legal advocate on your side.
Common Causes of Kentucky Car Accidents
The NHTSA says that about 41 percent of the critical reasons behind accidents are driver recognition errors (inattention, internal and external distractions, inadequate surveillance, etc.). In addition:
34 percent of the critical accident causes attributed to the driver were decision errors such as driving aggressively, driving too fast, or failing to yield.
About 10 percent were performance errors such as overcompensation or loss of control.
Accidents happen. But many car accidents are the result of bad decisions on the part of a driver or someone else, a decision they should be held accountable for if someone is injured or killed.
Our attorneys can help if the accident you were injured in was caused by:
Speeding
Distracted Driving
Drowsy Driving
Drunk Driving
Aggressive Driving
Vehicle Malfunction
Unsafe Roads
Injuries Common to Car Accidents
A car accident victim may face a long and expensive recovery, depending on the type and extent of injuries. Some car accident victims never fully recover.
At Becker Law Office, our lawyers handle cases involving a range of injuries, including:
Broken Bones
Internal Organ Trauma
Traumatic Brain Injury (TBI)
Whiplash
Spinal Cord Injury (SCI)
Amputation
Burns
Psychological Injury
Few people need to be convinced of the high cost of medical care, particularly someone dealing with hospitalization, surgery, rehabilitation, counseling and potentially a lengthy recovery from a car accident.
As your attorneys after a car accident, we will work aggressively to help you seek compensation for all medical costs and your other crash-connected losses.
Taking Legal Action After a Car Crash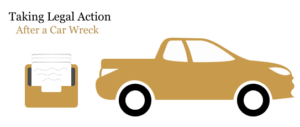 In every crash, it is important to determine the cause and who is responsible.
The person or entity that caused a car accident can be legally required to compensate accident victims for their losses, including:
Past and future medical bills, or medical costs incurred prior to death
Wages lost due to missed work, including vacation days
A reduction in income or a permanent loss of income due to injuries or death
Pain and suffering
Anxiety and emotional distress
Wrongful death damages
Compensation for loss of companionship.
Accident victims can pursue monetary damages for their losses in one of two ways: by reaching a settlement with an insurance company or filing a personal injury lawsuit and pursuing justice in court. In either situation, it is up to the accident victim to prove he or she is entitled to damages.
This requires having evidence to show the at-fault driver was unreasonably careless or broke the rules of the road and that these actions led to the accident and injuries. Evidence, including police reports, eyewitness testimony, expert testimony from accident reconstruction experts, and photos from the accident scene, can all be helpful to prove your case.